August Issue, 2020
IN THE
NEWS
MNRead Now Available In Dutch, German, and French as well as English & Spanish!
MNRead Acuity Charts are continuous text reading cards used for functional vision and low vision assessments. The cards are comprised of 19 calibrated passages to determine a patients reading acuity, maximum reading speed and critical print size. MNRead charts can also be used for research, pediatrics and special education.
The MNRead Charts have a wide range of applications which include the aid of prescribing optical correctors such as handheld and lens mounted magnification solutions as well as filters and illumination.
These versatile charts are available in English, Spanish, and we are now introducing German, Dutch, and French. They are also available in normal contrast (black letters on white background) and a select few with reversed contrast (white letters on black background).
The MNRead Pocket Card is now available in English and Spanish. This pocket card offers a condensed version of the traditional MNRead acuity test as well as real life applications of daily living. This well rounded test fits right into your lab coat pocket for easy accessibility.
Precision Vision manufactured MNRead charts are durably laminated to reasonably tolerate disinfecting techniques associated with COVID-19.
BEHIND THE
TEST
MNRead Testing Demonstration
PRODUCT
PROFILE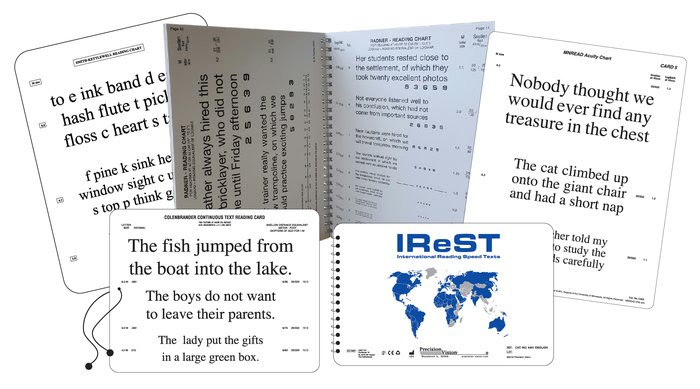 21 Different Languages Available!
Currently Precision Vision, Inc. manufactures a variety of different charts including Radner, IReST, and Colenbrander Charts. These charts account for our library of twenty-one (21) different languages including: English, Spanish, Hispanic, Brazilian/Portuguese, German, Dutch, Danish, Finnish, Swedish, Italian, French, Arabic, Chinese, Russian, Hebrew, Polish, Japanese, Slovenian, Turkish, Norwegian, and Tagalog.
Browse through our highly standardized multilingual reading tests that are developed for clinical practice and research.
ASK
PV

Each issue we will take a look at some of the most frequently asked questions that we receive and feature a Q & A below!
---
Q: What about COVID-19? How can we SANITIZE the charts a patient touches without ruining it?
A: We have sanitizing options available for even for our most fragile charts.
Click below. Our team will help you find the best solution for the charts in your practice, university, clinic or study.