Illuminator Cabinet Age Replacement Policy
March 6, 2020
Notice to all participants in the chain of supply, certification, training and use of ETDRS Illuminator Cabinets in Clinical Trials and Vision Research.
Precision Vision manufactures some of the most trusted vision testing products in the world and has been the primary provider of illuminator cabinets used in clinical trials since the first ETDRS study in the late 1980s.  Many old and antiquated Precision Vision and Lighthouse brand (manufactured by Precision Vision) ETDRS Illuminator cabinets are still being used in clinical trials and vision research.  Some of these cabinets are well over 15 years old and the performance of these older cabinets cannot be known or trusted.  These cabinets should not be used for studies where the results are submitted for approval by the NIH or FDA.   The specific cabinets of concern are those with model number L220 or cabinets with labels that don't specify a model number.  Those cabinets range from 10 to 25 years old.
As important, there is a misconception that new Precision Vision replacement bulbs with diffusers can be installed in old illuminator cabinets to make them acceptable for use.  This is not accurate, nor acceptable.  Fluorescent bulbs with diffusers attached are made specifically for the model number of the cabinet they are being installed to deliver consistent and known light levels.  Installing these bulbs into older illuminator cabinets for which they are not made are likely to lead to the wrong luminance or a variation in lighting levels which could result in inconsistent data.  Currently only light boxes with model number 2425 and versions 2 and 3 should be used.  Light boxes that were supplied with removable light diffusers should no longer be used.
Precision Vision's ETDRS Charts and Illuminator Cabinets are the most frequently chosen equipment to provide best corrected visual acuity results for clinical trials and are approved by the NIH, NEI and FDA. They are approved and chosen due to their accuracy and dependability. However, that endorsement is valid only for known to be operating properly, this is limited to Illuminator Cabinets labeled as model 2425 or 2425E v2 and v3.  Illuminator Cabinets 10-25 years old are too old to be endorsed.
See the illustrations below for help to identify approved cabinets.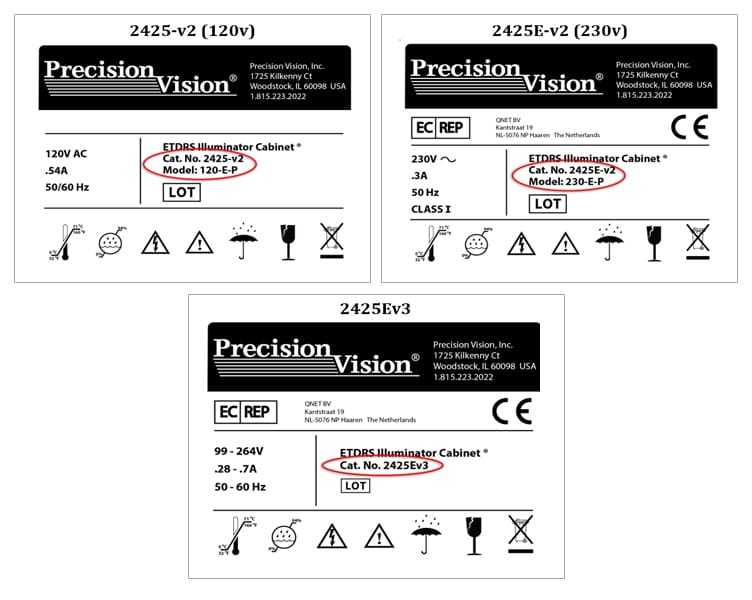 Cabinets other than those with labels shown above must be replaced prior to participating in any new studies.  We do not recommend replacing illuminator cabinets that are used in trials that are in-process where data has been collected and is being used. Changes at this stage may result in a shift in patient scores.
For more information about updating your antiquated cabinets, phone or email your current PV contact or any of our helpful staff at 815-223-2022 or info@precision-vision.com.
Precision Vision offers a precisely calibrated 2425 LED ETDRS Illuminator Cabinet. This cabinet is approved for use for all the same purposes as the Original ETDRS Illuminator Cabinet.
Best Regards,
Ed Kopidlansky, CEO
Precision Vision